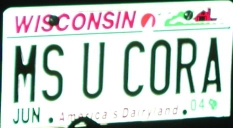 I often write about how when the brothers and sisters get together and do something really good, that it helps out the whole riding community in general in the way citizens look and feel about bikers. This is one of them positive times.
I had the honor of setting up a poker run 4 years ago in the memory of a little girl who was abducted and murdered, Cora Jones. This event raises money for a scholoraship, given in the memory of Cora, to a graduate at the High School in which she would have attended. The event also helps to raise awareness about child abduction.
It has been a couple of years since I attended this run, so my son and I jumped on the scoot and took off for Wally World in King, WI. I don't want to get into the run itself to much, because it is kinda hard to have a really good time with this kind of thought bouncing around in your head. The first stop being the place Cora Jones was abducted from, where there was a moment of silence and a wreath set out. The really kewl thing about the run is the fact that Cora's parents, Rick and Vicki Jones, rode along side with us.
Thank you to all the members of the Black Pistons MC for keeping this event rolling.
Click on picture for larger image
Copyright © 2002-2005 Free Riders Press
All Rights Reserved