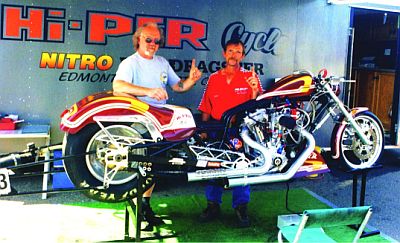 Hi-PER Cycle from Edmonton, Alberta Canada
Ever heard the old saying, "if you haven't been there, you don't know what you missed?" Well, if you're a motorcycle nut and you didn't go to the Big Race in Brainerd on July 21st thru the 27th, this saying now applies to you! I'm talking 5 days of NHRA/AMA Pro Star and the All Harley Drag Racer Association fighting it out on a 1/4 mile track at 200+ miles per hour. My only question to those of you who missed it is, "What in the HELL were you thinking?
| | |
| --- | --- |
| Mark and the boys from Brainard Indian | Starting at the time you drive through the front gate there's something to see. There are vendor displays, like our old friends from Brainerd Indian, with a massive display featuring the Indian semi-trailer from Gilroy California. There are also factory representatives. By the way, a big Thank You to Mark Whitting from Brainerd Indian who handed me the keys to a '03 Indian Chief so I could cruise around BIR in style.If you haven't checked out the new Indian yet, that's another thing you're missing the boat on! Other vendors were there; including S&S and their line of goodies, Chopper City out of Fridley MN was there showing off their Boss Hog, and more food than you could eat in a week. |
When you come visit, they have on site camping with live bands in the evening, so plan on staying. You're going to need at least a couple days to see it all.
The real story here is the bikes! It's really all about the bikes, isn't it? Well, there's something for everyone. In fact, if you can't find something that really turns you one, check your pulse brother, because you're dead!
Like, for instance, for all you Harley nuts, try Hi-Per Cycle out of Edmonton Alberta, Canada. These guys are running a V-Twin style 120 ci Maverick engine that they designed, and doing a damn good job of it. Al Miles is the pilot of this monster and also the 2002 C.M.D.R.A. Pro Dragster Champion. Running 7.71 @172.81, Jerry Gordon is the engine guru. Him and All designed the motor, and we have Jody Hurdman as the master mechanic. These guys have also designed a new motor called a Derringer, and it's currently in the final stages of completion. For use in pro drag, pro gas, and pro stock, this engine will be available to the public in 134 ci All billet construction, side by side rods, one piece crank, available this fall.
For info email al@hipercycle.com.

Larry "Spiderman" McBride's 244+ mph motorcycle
Or how about the '95 GSXR Suzuki funny bike piloted by James Lightfoot Buyton out of Oklahoma City. This guy's the '97 National Champion and currently running in the top ten for 2003 in the low 6 second @195 mph range. His crew includes Preston Fletcher as captain and Tony Parker as crew chief. The big news out of B.I.R. this weekend was Larry "Spiderman" McBride, who broke his own record of 5.895 @ 243.28 mph by going over 144 mph. Larry's from Newport News, Virginia and is a 4 time AMA/PROSTAR Champion ('91, '00, '01, '02). Larry's brother Steve McBride handles the crew chief duties and they seem to be a doing something right.
The name "Spiderman" evolved in 1980 at the NHRA U.S. Nationals in Indianapolis, IN when an announcer commented on his riding style of crawling around on the bike to keep it in the groove.Just between you and me, I have been riding for 10 years, and at 244 mph, I would be crawling around looking for a way off!!!
So, that was my big day at B.I.R. My only regret is that I could not spend the entire weekend and that's my fault. A big thank you to the Management and Staff at B.I.R. who treated me far better than I deserve, and gave me total access to the entire place. In reality, it was such a relaxed atmosphere that I felt like I was attending a family reunion or something. But don't kids yourself, there's plenty of security to insure that it stays that way the whole time. So if the kids want to go off by themselves, you don't need a leash. It's good family fun, so check out upcoming events on their web site, or if that's too much work, I'll make it easier for you.......September 5th thru the 7th, Muscle Car Shoot Out with more to come.
Watch the next issue for the second part of this article on a large charity bike run that took place at B.I.R. this year.

Shovel



Hi-PER's 120 ci Billet V-Twin monster

James (Lightfoot) Guyton and his
crew with their 95 GSXR Suzuki funny bike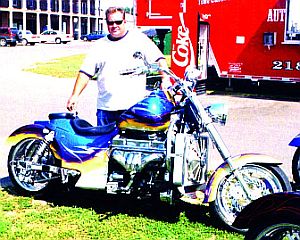 Gary Bolander from Mpls. and his 406 Chev Boss Hog